When it comes to designing a custom coin, there are a few things to keep in mind.
With the possibility of seemingly endless custom coin designs, you can be sure that you'll be able to have any style designed on the metal. Yet, this does not mean you can go overboard with it. Picasso or Van Gogh paintings are where creativity hits a dead end.
Yes, there are a lot of coin designs available online and countless designs you can make yourself. But do not have the same expectations as you would from a large sheet of canvas.
Coin designs are meant to be creative but simple. So if you're to choose a custom design for a coin, here are some things you should know.
Basic Facts about Custom Challenge Coins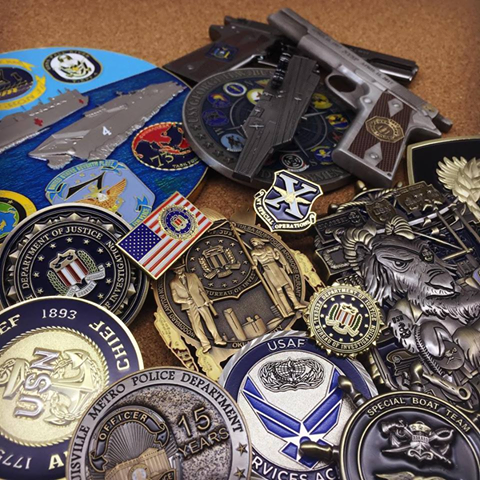 Size
There's a range of coin sizes available. But the standard size is about 1.75" in diameter. Larger sizes such as the 3.0" coins are typically reserved for bottle openers or for commander coins.
Shapes
AYes, aside from the traditional round shape, you can have your coin designed in a different shape to make it stand out. Generally speaking, even with shape options, most people usually go for squares, rectangles, badges and shields. Nevertheless, if you're working with a reliable, experienced coin maker, they'll likely be able to make any shape coin you want.
Enamels
You have a choice; you could either leave the coin without color, letting the metal speak of itself, or add a color to make it stand out more. Either way, you have plenty of options when it comes to bringing your design to life. Soft enamel offers a more textured look and finish with that stamped finish. Hard enamel will offer a smooth texture and finish.
Coin Platings
Genuine 14k gGold, silver, sandblasted nickel, antique bronze, antique gold or chrome — any plating works for adding that shine to your coin! However, keep in mind that if you're having a 3D design made, it's best to go with antique plating so there's no reflective glare.
Raised and Recessed Metal
If you're working with an artist from your coin making company, they'll likely send you the artwork for approval, which will have all the details of the colors used, the shades and information on the raised and recessed metals.
The raised metal on the coin is basically its outline, the walls which keep the enamel paint in, and not let it flow into the outer areas. The recessed metal is that part which will be painted (if you choose to color your coin).
Got the Gist?
Now it's time to choose a good coin maker.
And for that, we recommend Challenge Coins 4 U . As one of the leading challenge coins maker in the world, Challenge Coins 4 U offers numerous types of coins, as well as custom services.
So order a challenge coin from them today. And use the information above to have the perfect design made!