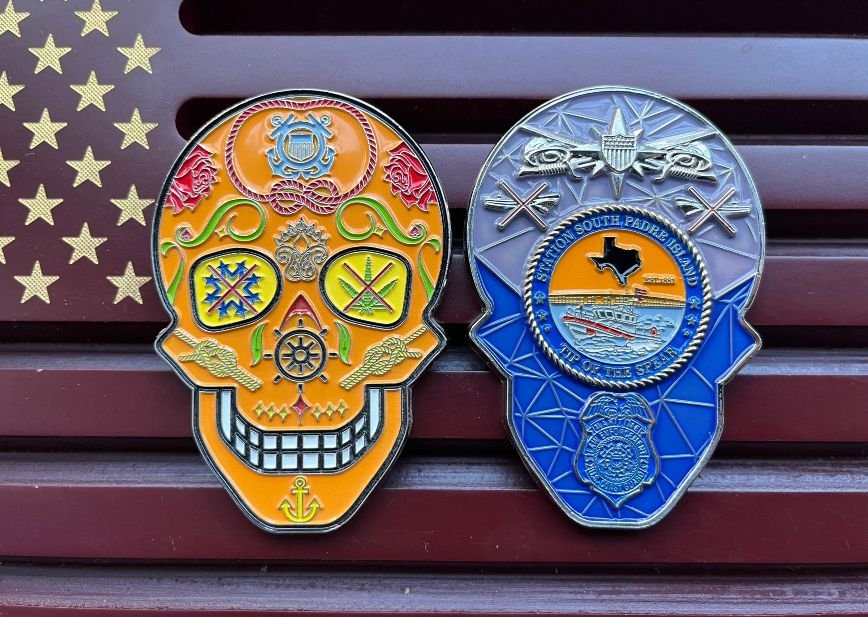 The US Coast Guard is a unique branch of service. It ensures the safety of our coasts and borders that may close to other countries. It also serves in search and rescue missions, maritime safety, drug interdiction and more. The actual history of the coast guard goes back to the year 1790. The coast guard preceded the US Navy 8 years before it was born. A fun little fact is both the US navy and US Coast Guard share the same ranking system! Historically the main duties for the Coast Guard was protecting the nation's coasts, enforcing tariffs, and aiding in maritime navigation. The modern day US Coast guard falls under the hands of the Department of Homeland Security. We enjoy creating coast guard challenge coins because the themes and motifs are similar to the Navy. Each custom challenge coin design usually includes the Coast Guard logo, in addition to the rope edge design on the edge (as seen in the logo). The most common vehicles are cutters, as well as helicopters. This is the only branch of the service which does not deploy overseas, as its duties include protecting the homeland and working with Homeland Security to ensure safe borders, arresting and dealing with drug and human trafficking, and more.
They offer specialist positions in everything from catering, avionics maintenance, rescue swimming, pilots, and more. It takes leadership, communication, and cooperation to make a ship work, imagine how much planning is required to do a rescue mission in the middle of a storm, or anything else for that matter. The Coast Guard is most well known for its helicopter rescue squads, who respond to distress calls by people who are at trouble at sea, and whose lives are in danger. They must rescue lives under the most dire circumstances, such as when a boat is sinking during bad weather. They all train hard to make sure that rescue everyone at all costs, even if it means their own lives will be put in danger. We are proud to make coast guard challenge coins as awards of excellence for the brave men and women who protect our nation's coast and rescue those who need help most.
We are the top custom challenge coin maker, so fill out our quick quote form , or visit our portfolio!